Upcoming Events

1/18 – PTO General Membership Meeting & Welcome Coffee for New Families since September  @ 8:45 in the PVPV Cafeteria

1/19 – Report Cards go home


1/23 – Picture Day: groups, photos, club photos, new students and individual picture retakes.

1/26 – Bach to Rock, Rawlings Cafeteria

1/26 – Dental Health Assembly for Kindergarten students


1/29 – Teacher Inservice Day:  No school for students

1/31 – Cyber Safety Presentations @ 6:00 PM in the Rawlings Cafeteria

IRMA Revised 2017-18 Month-by-Month SJCSD CALENDAR

School Hours




Doors Open @ 8:10am
School Begins @ 8:25

Dismissal:
Car Riders @ 2:45 (1:45 Wed)
Bus Riders @ 2:50 (1:50 Wed)
Walkers & Bike Riders @ 3:00 (2:00 Wed)

2018 – 2019
Kindergarten Registration Tuesday, March 13th
9:00 AM – 1:00 PM

Thursday, March 20th


9:00 AM – 1:00 PM

Wednesday, April 4th
1:00 PM – 5:00 PM


Wednesday, April 11th
1:00 PM – 5:00 PM

Kindergarten Screening
Tuesday, May 15th
Appointments will be scheduled during registration with Pam Nelson.

2018 – 2019 School Tours
Thursday, January 25th
*** Reservations required! ***
  contact Barbara Leaders [email protected] 

PTO Kindergarten
Orientation & Tour
Tuesday, April 24th
4:00 PM   

Tech Savvy Kids
in a Cyber World

Wednesday, January 31st
6:00-6:30 p.m.

Please join us in the Rawlings' cafeteria for an informative evening designed to help us all work together to support our students' success and safety.  We will welcome a presentation by Ms. Leslie Shugart from the school district's Student Services department on helping students navigate online safely. Ms. Shugart will also present age-appropriate information to our students during student assemblies that same day.

Featured Links

Science Textbook Adoption
Click here to see the final recommendations.
Thank you to our science representatives who worked on the district committee: Mr. Zerrahn, teacher and Emily Stephens, parent!

Order Pictures Online
Access Code: 406353

Yearbooks

It's time to order your 2017-18 yearbook!

Order online:
www.leonards.com/yearbooks

access code: C406466

$15.00
if purchased before
February 1, 2018.

$20.00
if purchased after
February 1, 2018


McKay Scholarship Program
for Students with Disabilities

---

School Access Form
Any person coming into the school building must be a registered volunteer and fill out the School Access Form.

---

Home Access Center (HAC)
Monitor your child's progress!
contact Pam Nelson for assistance
547-8568
[email protected]

---

Car Tags
Email Sherri Church to request a new car tag.

---

Alert Now
Sign up for Alert Now telephone messages!
contact Pam Nelson
547-8568
[email protected]

---


Student Code of Conduct 2017-18

---

Transportation Department Provisional

---

Transportation Waiver Program 2017-18

---

Transportation Changes
Please call no later than 1:00
(12:00 on Wednesday)
if you have transportation changes for your child.
PVPV (904) 547-3820
Rawlings (904) 547-8570

Please include student's name, teacher,
and reason for absence.

Excused absences include: personal illness,
illness of an immediate family member,
a death in the family, religious holidays of the student's
established religious faith, required court or law agency
appearances, public functions, state competitions,
scheduled doctor or dentist appointments.

Unexcused absences include: shopping trips,
pleasure trips, suspension from school, appointments
without prior approval except in case of emergency,
truancy, and other avoidable absences. For a complete
list of excused and unexcused absences,
refer to the Student Code of Conduct.

PVPV Campus
Kindergarten, 1st & 2nd Grade
630 A1A North
Ponte Vedra Beach, FL 32082
(904) 547-3820




Rawlings Campus
3rd, 4th & 5th Grade
610 A1A North
Ponte Vedra Beach, FL 32082


(904) 547-8570
–

CHARACTER COUNTS! 6 Pillars 6K/3K Run/Walk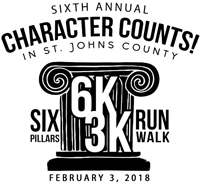 Walkers, runners and fitness enthusiasts are invited to participate in the CHARACTER COUNTS! 6 Pillars 6K/3K Run/Walk on Saturday, February 3, 2018 at 9 a.m. The run/walk will begin and end at Palencia Elementary School. Register before January 1 and receive a $5 discount!
Learn more and register today!
Attention All 5th Graders!
Are you interested in the performing or visual arts? Then, come audition at R.J. Murray Middle School for the Center of the Arts Academy! The online application will be open from January 18 at 8am until February 8 at 5pm.
Find out more and apply!